Hey, folks, HR here. In dedication to the 20th anniversary of the
Super Mario Bros.
movie, I began working on a re-cut version back a couple of months ago. Here's the full list of changes I've made.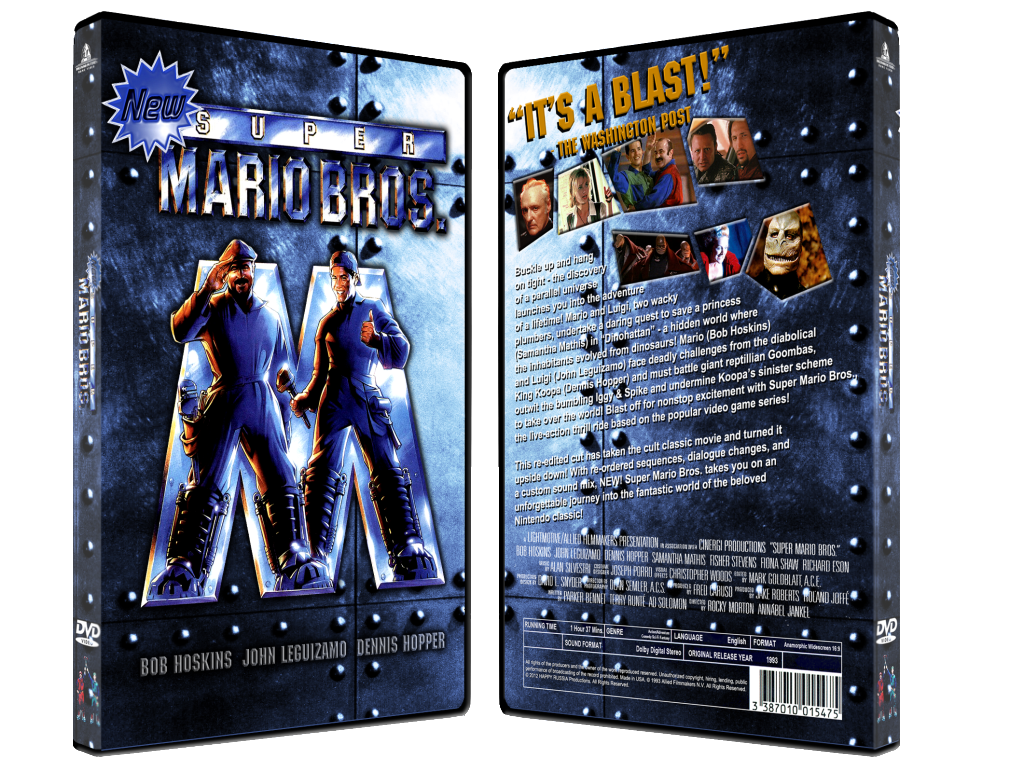 NEW! Super Mario Bros.

List of Changes:

1.) Removal of the opening "dinosaur" sequence and subsequent credits. New title sequence, with lead cast names, created from parts of the original theatrical trailer.

2.) New music added to several scenes:

- Orchestrated version of the classic Mario theme inserted in the, "Mario Bros. Plumbing, no leak too small!" scene.
- Underground theme inserted briefly into Mario & Luigi's infiltration of Koopa's Tower / "plumber's nightmare," scene.
- Orchestrated version of the "Level Complete fanfare" from original SMB replaces Alan Silvestri's original motif when we see Mario & Luigi in their outfits for the first time in the elevator.
- Underwater theme replaces "Somewhere, My Love," as the elevator / dancing Goomba music in said sequence.
- Heroic fanfare from

Super Smash Bros. Melee

inserted into the Goomba barracks rescue when Mario swings from the light and kicks the Goomba.
- Intro of "The Evil King Bowser," from

Super Mario World

inserted before de-evolved Koopa emerges.
- Orchestrated, edited version of "Peach's Castle," (arranged Mario theme) from

Super Smash Bros. Melee

replaces Alan Silvestri's score in the celebration scene after Koopa's death.
- Entire end credits are re-scored featuring an arranged version of the Mario theme, the Mario rap from

The Super Mario Bros. Super Show,

"The Grand Parade" from

Super Mario World,

and the

Super Smash Bros. Melee

theme as the closing.

3.) Conversation between Luigi & Daisy, after dinner, shortened by a few minutes. Removes odd dialogue.

4.) "Mario Mario, Luigi Mario," scene in police station edited, shortened.

5.) Toad's de-evolution scene re-edited, rearranged.

6.) Prison escape sequence shortened and re-edited. Police car chase shortened and re-edited, infamous "no brakes" line removed.

7.) Mud bath scene shortened, unnecessary lines removed. Lena & Daisy scene re-edited to include prologue with Daisy's mother as a flashback of how she died.

8.) Childish insults between Luigi, Iggy & Spike removed to keep expository dialogue flowing.

9.) Iggy & Spike's de-evolution scene re-edited to create a bait-and-switch.

10.) Jump sound effects added to Thwomp Stompers upon launch.

11.) All occurrences of "Koopa Pizza" joke completely removed.

12.) Barracks rescue scene re-edited. Mario given trademark, "It's-a me, Mario," line.

13.) New shot of Mario from theatrical trailer inserted into bridge show-off between Mario and Koopa. Final battle against Koopa re-edited.

14.) "Super Koopa Cousins" scene inserted between credits instead of at the very end.

15.) New sound effects:

- Fireball sound effects added to all flamethrowers, Thwomp landing sound effects added to fireball impacts.
- Jump sound effects added to Thwomp Stompers launching.
-

Super Mario World

bounce sound effect added when Mario bounces off the fungus trampoline.
- Stomp sound effect added to Mario kicking Goomba over during barracks scene.
- Koopa shell kick sound effects added to falling Goombas punched by Koopa.
- New sound effects for Devo Gun discharges.
- Item box growing sound added when Koopa fires at the mushroom, causing it to grow.
- P-Meter sound added when Big Bertha lifts and carries old lady.
-

Super Mario Bros. 2

throwing sound effect added when Big Bertha throws old lady. Also added when Mario throws the mushroom.
- Bob-Omb jibber from

Super Mario 64

added before detonation.
- Bowser roars from

Mario Kart 64,

as well as new roars and growls added to final Koopa battle.
So that's everything in my new re-edit. This was done as a total labor of love for this film, and my love for the Mario franchise.
_______________________________________________________________________________________________
EDIT (March 18th, 2013)
: The FINAL cut, as well as the Italian Final cut, are now live!
New! Super Mario Bros. - The Final Cut
New! Super Mario Bros. - The ITALIAN Final Cut